LET'S TALK
ABOUT ...
HAUSKEN has specialised in the development and production of high quality silencers since 1992. The manufacturer therefore possesses more then thirty years of experience in sound mechanics. The silencers are crafted on state-of-the-art machinery. All parts are hard anodized for maximum durability. The sophisticated engineering, precise manufacturing and premium materials guarantee maximised sound attenuation with consistently lightweight designs and compact dimensions.
Hunters and sports shooters around the world are united around a shared passion for their calling. Aside from the pleasure they take in hunting and sport shooting, the unique dedication they feel continues unabated. Hunters in particular find themselves watching and listening to nature while perched up in the blind, waiting for the prey to appear. But these impressions are often impaired by hearing protection. We should actually be able to enjoy the sounds of nature for as long as possible and in every conceivable form. HAUSKEN silencers were developed specifically for this purpose. These innovative firearm extensions cut sound pressure levels and protect the shooter's hearing from the muzzle blast and a sudden burst of noise. Even those in the immediate vicinity will notice a significant reduction in the sound pressure level as well.
Depending on the product, HAUSKEN silencers offer highly effective hearing protection and enable a more intense experience of nature. People will only realise their full potential if they take care to protect their sensory organs throughout their lives. HAUSKEN therefore aims to provide optimised silencers for the specific needs of its customers.
Extensive noise reduction, a significant drop in muzzle flash, noticeably gentler recoil and improved accuracy are just a few of the benefits associated with the POWER OF STILLNESS.
HAUSKEN: MASTER THE POWER OF STILLNESS …
HAUSKEN builds silencers from Norway in unbeatable quality. We have world-class technical solutions for whenever you want to enjoy the sounds of the moor, forest or mountains in peace. The silencer reduces the blast that briefly pierces the tranquillity of nature.
BENEFIT FROM OUR DECADES OF EXPERIENCE.
Established to serve the individual needs of hunters, engineered with astonishing expertise and accompanied by 30 years of success ...
THE SILENCERS
absorb a significant portion of the muzzle blast and direct the gas pressure into several chambers. Optimised energy distribution and use demand a highly sophisticated and intricate design. This reduces the sound pressure level, muzzle flash and recoil.
THE MATERIAL
A silencer's casing and inner workings must be built to withstand high pressure and temperatures. Special metals or alloys are therefore used as the base material in production. Steel, aluminium and titanium are popular on the market due to their excellent durability.
THE ENGINEERING
of silencers builds on a cylinder with inner workings. The silencer is screwed onto the barrel thread and can either directly extend it (on-barrel silencer) or partially enclose it (over-barrel silencer). There is a bore to allow the bullet to pass at the opposite 'exit end'. The silencer's body is designed to lower the gas pressure – as a larger volume within the cylinder will enable more gas to expand.
COMPACT AND AGILE
The length of the silencer is generally twenty to thirty times that of the shell calibre. In turn, the diameter is four to five times the cartridge's thickness. The diameter at the exit bore should be 1.25 times the bullet calibre.
THE SERVICE LIFE
The lifespan of silencers depends on a variety of factors. The service life depends on the cleaning interval and the specific interaction between the material, discharge frequency and the cartridges used. Broadly speaking, though, silencers have a very long service life.
PLEASE NOTE
Silencers may only be mounted on firearms if the exit bores are large enough for the calibre. Silencers are usually compatible with calibre groups.
OVER-BARREL
Silencers are engineered to enclose the front section of the barrel. The benefit here is that very large silencers can be mounted without extending the barrel of the firearm by the silencer's entire length (on-barrel silencer). Weight distribution is significantly improved as well.
ON-BARREL
Silencers are attached to the muzzle thread and extend the length of the barrel. This means a noticeable increase in length, especially when using very short firearm systems. While over-barrel silencers usually prevent open sights, on-barrel models do not get in the way. Red-dot sights are also possible, without raising the mount additionally.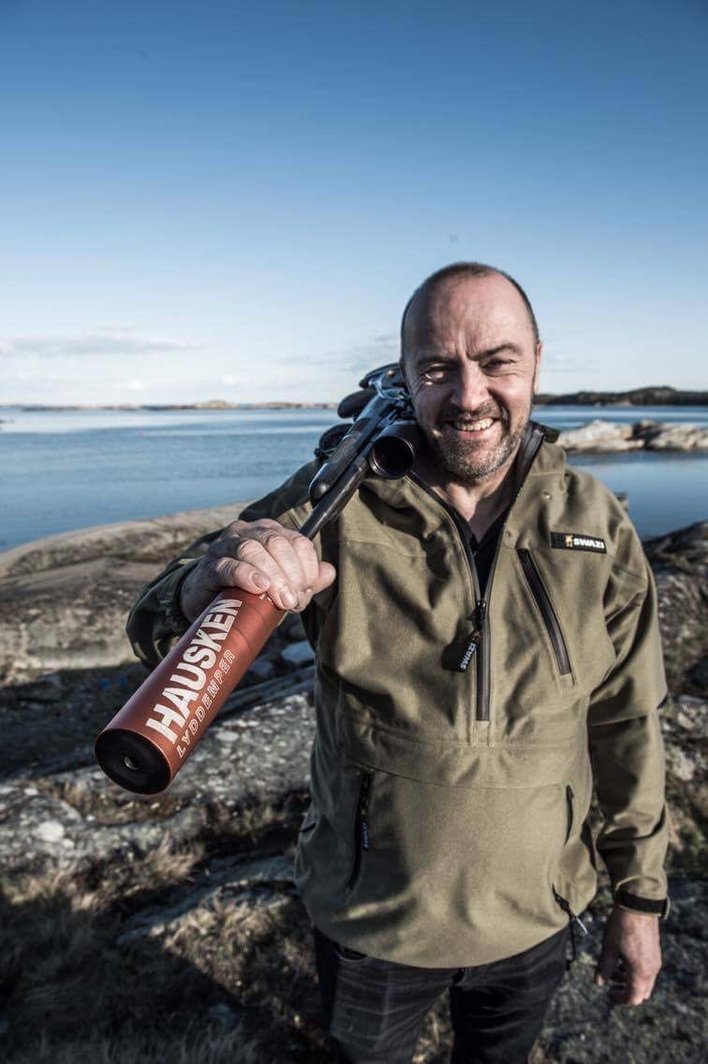 WHAT IS HIS PERSONAL VIEW OF USING SILENCERS?
Simple and manageable – Hans Petter Hausken is particularly satisfied with the JAKT series and its large number of variants. After all, it beautifully reflects the underlying idea on which his labour of love was built: an individual silencer, designed specifically for the needs of hunters or sport shooters. He invested his entire passion, dedication and experience into developing excellent products that have been manufactured in Norway to the present day.
Passionately committed ...
... to making the hunt more effective.

THE TECHNICAL BACKGROUND
As a mechanic for agricultural machinery; it all began with an apprenticeship in 1976. Hans Petter worked at a local company and was responsible for maintaining and repairing agricultural machinery until he started his own business in 1992. Self-employed in the servicing of agricultural and industrial machinery for three years, he started his own company in February 1995: Hausken Landbruksservice. He began designing and manufacturing prototype silencers for personal use in 1990. Later, in 2004, he established the first company specialised in silencers, which gradually evolved into today's Hausken Lyddemper AS.
THE HUNTING BACKGROUND
His life story is inseparably linked to stories of hunting and fishing. He was a committed hunter of small game and wild birds from his early teenage years. His interest in big game hunting first emerged in 1988. He has been an enthusiastic hunter of red and roe deer ever since. Over the years, he leased a large number of local hunting grounds and continues to stalk regularly on his own land.
FASCINATED BY HUNTING
His interest in hunting grew when he stopped deep-sea fishing. One passion replaced the other. Building on his initial experience with small game, he took his first steps into the world of hunting big game. He continued this pursuit for many years, hunting a large number of different species. Norway is home to unique landscapes and truly exquisite nature, which he was fortunate enough to explore thoroughly. Hunting involves far more than a single shot: Maintaining game populations and a profound experience of nature and ll its inhabitants are among its defining characteristics. Ultimately he passed on his passion to the rest of his family: his oldest son and two of his sons-in-law are all hunters.
WHY SILENCERS?
After completing his apprenticeship, he first proceeded to do his 12 months of military service from 1977 to 1978. Hans Petter was a member of the Norwegian Home Guard from 1980 to 2002. This brought him into contact with many different firearms and silencers. The silencers he encountered were heavy, cumbersome and extended the length of the barrel inordinately. With his experience as a mechanic for agricultural machinery, the next logical step was to build a silencer that suited his needs. Hans Petter developed his first silencer together with his father, who shared his son's passion for hunting and inventive spirit.
THE FIRST STEPS TO SUCCESS
The very first silencer was made of steel. It was welded together from a number of components. Initial testing investigated whether the silencer, with its rear expansion chamber and shorter design, would still ensure a sufficient reduction in the muzzle blast. The first tests were promising. An aluminium prototype was built after successful completion of the function tests. It possessed an aluminium core and casing and was machined from a tubular blank. Bores were drilled into this tube during development to enable a finer distribution of internal gas pressure, similar to the pattern we find in today's HAUSKEN SILENCERS.
THE XTRM ADD-ON
Hans Petter was a quintessential inventor and experimented with several designs and variations until he was satisfied with the result. Finally, he wrapped the core in a steel mesh and mounted the newly developed silencer onto his hunting rifle. Now it was time for the first HAUSKEN silencer to prove its worth in a hunting scenario – which it did with distinction. Its ability to reduce both noise and recoil was satisfactory. Additional integration of a steel mesh fabric greatly improved attenuation and delivered a quite audible difference in the shot discharge. The combination of aluminium and mesh kept the silencer light and manageable as well. To obtain an objective assessment, he sent the innovative silencer to a Norwegian hunting journalist: Jørund Lien. He put the device through its paces and wrote a positive review.